Adventure of Gobi and Great White Lake
Day 1. Drive to Baga Gazariin Chuluu –Rock Formations.
After breakfast, we will drive to Baga Gazriin Chuluu. It is a huge granite formation in the middle of the Mongolian sandy plane. End of the afternoon we will drive and hike around the area. We will visit the picturesque ruins of a small monastery that hidden in a nice little protected valley. Moreover, we will drive and hike to see rock carving or petrography.
Day 2. Drive Tsagaan suvarga - white stupa.
It is the sheer slope and was an old seabed with the sedimentary structure created by millions of years and the different colors of the ground represent different times. The formation is over 50 m at its highest point and continues 400 m. There is no clear date of geography research work. Its wall slope looks like an ancient ghost city forms a distance.
Day 3. Drive to Yol Valley- Vulture Valley.
Drive to Yoliin Am – a wonderfully picturesque place surrounded by sheer rocky walls, forming incredible canyons that are the narrow canyon of a river. Only two people can pass in the narrowest part. These areas situated in the Gobi Gurvan Saikhan National Park.
Day 4. Drive Khongor Sand Dune
Drive to Khongor Sand Dunes – one of the most spectacular sand dunes in Mongolia. Dunes of Khongor is known as the « singing sands » and rise from the plain reaching a height of 400 meters high, stretch from East to West over more than 100 km
Day 5. Drive to Bayanzag-Flaming Cliffs
After breakfast, we will drive to Bayanzag - the biggest saxaul forest and Flaming Cliffs, where you will find the paleontology place when Roy Andrew Chapman discovered fossilized dinosaurs skeleton and eggs in 1920s surrounding landscape is a beautiful combination of rocks and red sand.
Day 6. Drive to Ongi Monastery.
After breakfast, we will drive to the Ongi Monastery ruin. At the entrance of a beautiful mountainous region, the ruins of two Monasteries are there. This monastery has 28 temples and other buildings. This monastery had about 1000 lamas. Ongi monastery founded in 1660 and consisted of two temple complexes on the north and south banks of the Ongi River. The older southern complex consisted of various administrative buildings as well as 11 temples. The northern complex built in the 18th century consisted of 17 temples-among them. The monastery built on a steep rocky slope of a mountain in a Nepalese architectural fashion and used to house over a thousand Buddhist monks. It destroyed during the Stalinist purges in the 1930s.
Day 7. Drive to Orkhon waterfall.
After breakfast, we will drive to the Orkhon Waterfall. On the way, we will have a picnic for Lunch. After arriving at the waterfall we will enjoy the spectacular view of the waterfall and surrounding area, where we will have the chance to take some beautiful photo shots of Orkhon Waterfall. The height of the waterfall is 20m and the width is 10m. It's originated by volcanic eruption and earthquake over 20000 years ago.
Day 8. Arrive at the Tsenkher hot –spa.
TsenKher is a natural hot spring that flows out the whole year from the ground at 85 Celsius degree; country's second hottest, in mountainous Central Mongolia. It is located 1860m a.s.l. The spring comes out from the far deep part of the ground and its water not mixed with soil waters because it is hot. The water has high mineral content and containing everything from simple calcium, sodium to sulphuric. Folklore claimed the medical value some of this spring have. The spring produces water that is good for health reasons and water is the effect for joints, nerve systems and considered good for many other diseases. Sometimes, people drink water for diabetes and stomach ulcer and disabilities.
Day 9. Drive to Terkh White Lake
Terkhiin Tsagaan Lake is an astonishingly beautiful lake with relatively pure freshwater. Torrents of lava issuing from the Khorgo volcano blocked the north and south Terkh Rivers, so forming the dammed lake of Terkhiin Tsagaan Lake at an altitude of 2060 meters above sea level. The lake is 16 km wide, 4-10 meters deep with its deepest point at 28 meters and over 20 kilometers in length. It flooded 61,1 square km. The lake supports Pike and other fish.
Day 10. Horse trip to the Khorgo Volcano near White Lake
Day 11. Drive to Kharkhorin
We will drive to Kharkhorin where is the oldest and one of the most attractive monasteries Erdene Zuu locates. On the way to Kharkhorin, we will have lunch in the local restaurant. The Erdenezuu monastery established in 1585 by Abtai Sain King and built by Mongolian, Tibetan, and Chinese architectors.
Day 12. Drive to "Lun" village.
Overnight at a nomad family near Lun village – stay with family and have a traditional Mongolian barbeque called "Khorkhog". On the way, we will stop at Khustai national park to watch wild horses Takhi, widely known as "Prejevalski horse". Przewalski horses are the only wild horse to survive in modern times. The species returned to Mongolia from world zoos and reserves within Khustai National Park. Khustain Nuruu has good vegetation, springs, birch forest and rocks, which are suitable for many wild animals including 46 species of mammals and 172 species of birds.
Day 13. Back to UB and have lunch
The Tour Price includes:
Accommodations
Driver + 4WD Vehicle + All Petrol
English or Korean speaking Guide
Breakfast, Lunch, Dinner (Vegetarian or vegan meal are possible)
Water 1.5L daily
All entrance fee
Camel & Horse Riding
The Tour Price doesn't include:
Accommodation in Ulaanbaatar
Tips
Personal items and toiletry
Optional activity costs
Gallery
Photos by Putsadee Koikoko and Lisa Matthes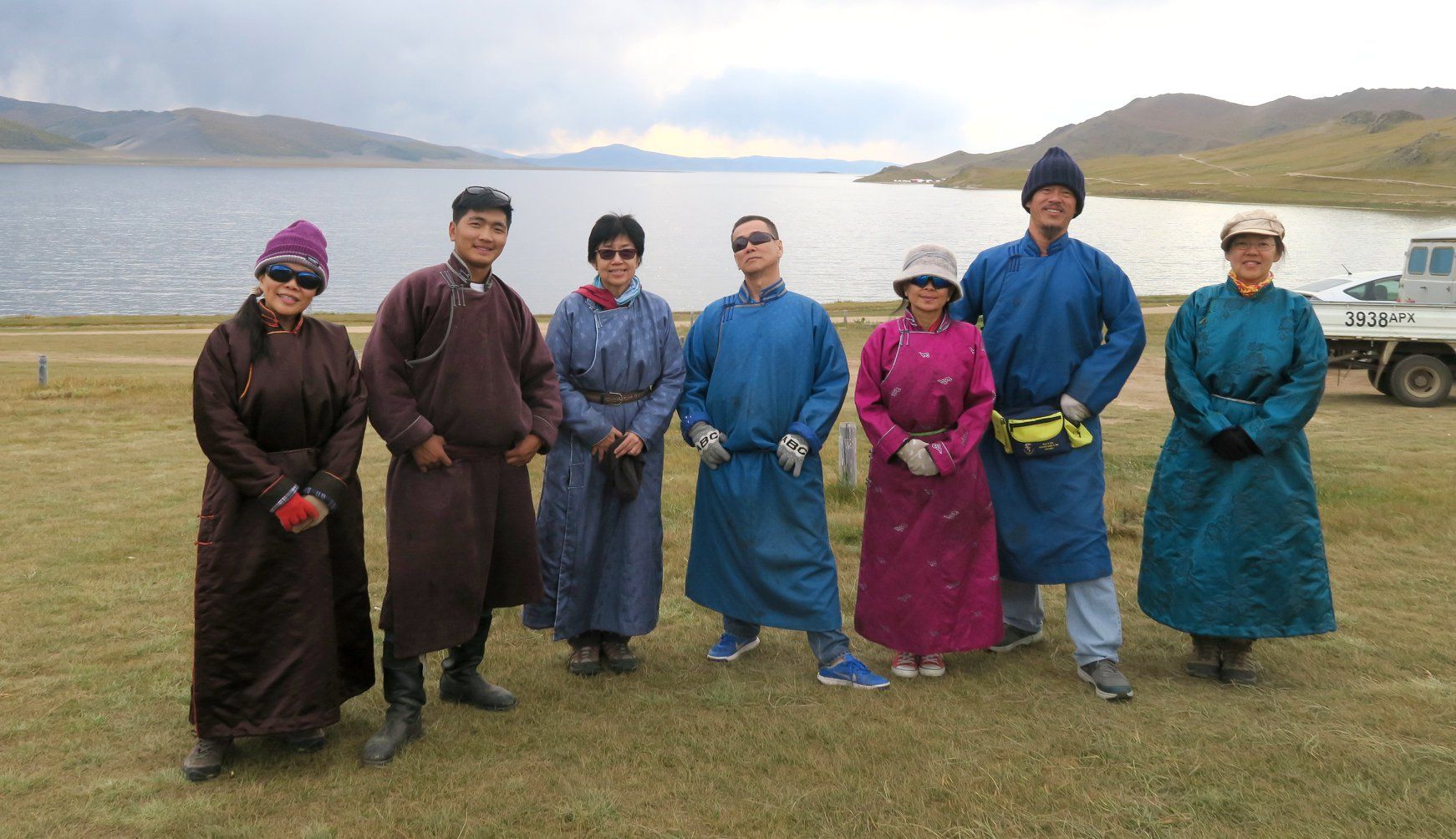 SIMPLY THE BEST - EXCELLENT PERSONALISED SERVICE I chanced upon Gobi Attraction and researched further on TA. The reviews were all good and gave me confidence to proceed without thinking twice. Everything went according to plan, with some unexpected extras – a cultural performance, snow in September and Sand Dunes Festival in Khongor. We are extremely happy with the warmth and service extended by the team of Hogy, Lhagvaa and Eku during our 13-day trip. Communications with Hogy & Eku was easy, as they speak good English with hardly any local accent. Hogy – Host & owner From my first contact with Hogy, who is very accommodating and always courteous, the entire trip (itinerary, budget, etc) was finalised via email. We were met and picked up from the airport, and taken to the Guesthouse. On our 10-day central Mongolia & Gobi Desert tour, Hogy patiently answered our questions and also what we can expect to see. Hogy single-handedly manages all the administrative part of our trip, as well as accommodation in UB, and prepared delicious breakfasts for us. Airport transfers, accommodation & breakfast is included when you sign up for a tour package! The guesthouse is in immaculate condition, with complimentary hot drinks and is nearby to restaurants, shop and the State Dept store. Simply Perfect! I totally agree with their vision for Gobi Attraction, to provide excellent service with a personal touch to ensure guests get the full Mongolian experience. GER stays with nomad families are preferred, and trips can be customised according to individual needs. Lhagvaa – Driver A first rate driver with a fantastic memory and GPS in his head. He unerringly navigated us safely covering 2,100km in 10 days. Much of Mongolia is vast open grasslands / steppe, with limited landmarks, no road names or directional signs. Many a time we went off-road, and followed track marks. I am still flummoxed as to how Lhagvaa knows which track to follow where there's a spilt. Lhagvaa is also very in-tune with his Russian van, able to 'hear' when something is not right, stopping immediately. Over the course of the trip, the trusty 'Bukhanka' (Russian: 'loaf of bread') had rear drivetrain mini-overhaul, 2x fanbelt changes, a leaf-spring band-aid fix, carburettor unclogging and a tyre change, with basically zero impact to the itinerary. Testament as much to the hardcore keep-it-simple&rugged Russian engineering as to the mechanical brilliance and ingenuity of our driver Lhagvaa Samdanbazar. Lhagvaa is also blessed with sharp eyes with superb long range vision. At Khutsai National Park, though the area was blanketed in snow, he managed to spot Takhi wild horses high up on a distant cliff. His persistence and effort to deliver this once-in-a lifetime experience is most commendable. He was careful not to disappoint us, which is truly appreciated. Eku - Guide A young man with an 'old soul', Eku totally loves romantic oldies from the 50s & 60s, much to our surprise and delight. Well-versed beyond his age, he can converse over a wide range of topics, in addition to showing and sharing the history and culture of his beautiful country. He looked after us very well, cooking our breakfasts & dinners, entertaining us with interesting stories after dinner over drinks. Eku is a responsible, conscientious guide who is committed to ensure our comfort at all times. While on the road trip, he would arrange for a stove in our GER on cold nights. Before turning in for the night, he makes sure there is enough firewood and pops in again the next morning to get the fire going, making getting out of the sleeping bag a more comfortable experience. He has a great sense of humour, infinite patience and is a fun person to be with. Thank you Hogy, Lhagvaa and Eku for making our stay in Mongolia unforgettable. One of our party had a birthday surprise with a cake and red wine on Day-2, courtesy of Gobi Attraction. Their thoughtfulness is very much appreciated. We wish you the best and hope to see you again, Cheers!
Let us create your Dream Holiday
Ready to experience in Mongolia at its best? We take the planning off you and hand you the keys to Mongolia. Drop us a line and we'll get back to you with expert, free, input within 24 business hours.
Below are the answers to some of the questions we get asked the most often, please have a look if your questions are already there, if not feel free to email us to [email protected]
1. When is the best time to come to Mongolia?
May to October is the best season, with the high season in July for the Naadam Festival. August and September are also suitable months of the year, our climate is such that you will still have many sunny days at this time. June and October are the most colorful month of the year. If you like the cold season and if you would like to get totally different feeling December is also a good month with winter fun.
2. Is Mongolia a safe destination?
Mongolia has one of the lowest crime rates in the world and people are known for their nomadic hospitality and kindness and they will make you feel very welcome. But when you are in the street in Ulaanbaatar city, you have to watch your bag and wallet unless there are many pickpockets around. It is a city.
3. What should I bring with me?
Warm and thin layers of clothing, waterproof jacket, good walking boots, sandals, and a hat and/or headscarf to protect you from the sun and winds. Don't forget insect repellent, sun cream, lip-gloss and first aid kit (medicine for headache, cold, diarrhea, runny nose; bandages; any medicine prescribed for you ) and camera equipment.